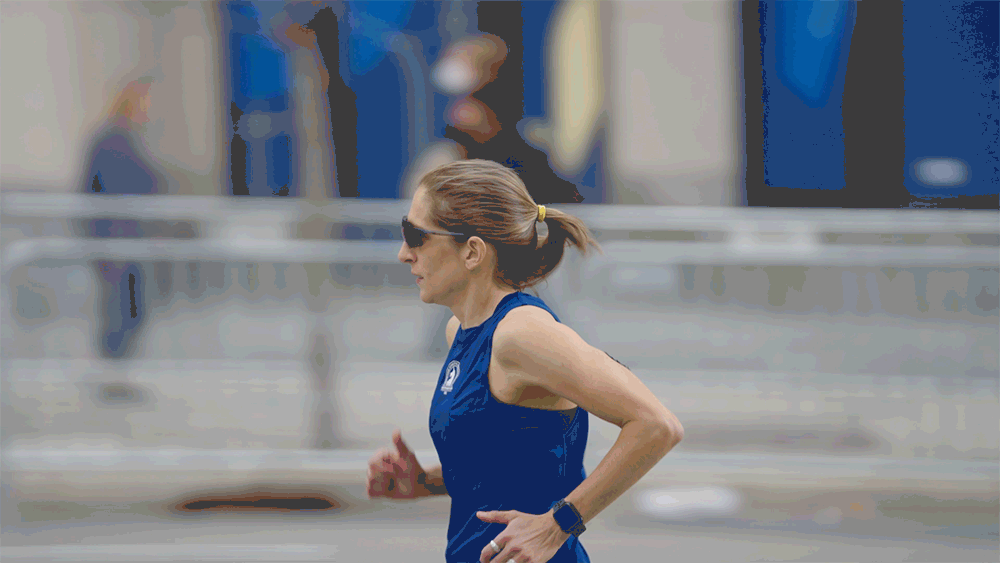 The Fast Finish Long Run
By: Team ENGO
For runners seeking a PB or Boston Qualifying (BQ) time, training for pace specificity is vital.  
If this sounds like you, then one of the best workouts to have in your arsenal is the fast finish long run.  
The first portion of this session is performed at a comfortable aerobic pace to accumulate some muscle fatigue and partially deplete your glycogen stores.  Then you slowly ramp up your pace so, by the middle third of the workout, you're running at your target race pace.  Finish your run with the last couple of miles performed at 90% effort… you really want to empty the tank!
Why It's Valuable
The goal of the fast finish long run is to experience and adapt to the stress and speed of race conditions.   
It also provides a valuable opportunity to dial-in your marathon nutrition, and practice other pre-race routines so they become second nature before your big event.
When to Do It
As you progress through your training plan, you continue to build fitness, strength and speed.  At approximately 8 weeks out from race day, you can begin alternating a fast finish run with your weekly steady long run.
Aim to conduct two or three fast finish long runs during the last 8 weeks prior to your marathon.
How to Pace It
Let's say you're aiming to run a 3:20 marathon (the BQ standard for men ages 45 – 49).  That means your average race pace must be 7:38 or better.
For that goal pace, a typical fast finish long run might look like this:
| | | |
| --- | --- | --- |
| Mile | Pace | RPE |
| 0-10 | 8:15 – 8:30/mi | Very easy |
| 11-16 | 7:35/mi | Race pace |
| 17-18 | 7:00/mi | Very fast |
| Last 400m | Maximum! | Very, very fast |
Make no mistake: this session is as challenging as it is valuable.  You must be well-rested and mentally prepared for this workout.   And you need to know your performance, in real-time, and without distraction or breaking stride,  in order to execute to its fullest potential. 
Avoid the Most Common Mistake
The design of the fast finish long run is deceptively simple, but tricky to properly execute.
To derive maximum ROI from this workout, you must precisely manage the prescribed variations in pace.  Many athletes – especially those new to this format – run the first phase of the workout too quickly, nullifying the benefits of the session.  
In the above example, the first 10 miles must be run easily  (in fact, it's common for these miles to feel too slow).  Don't worry, they're simply the appetizer for the main course to come… it'll get tougher soon!
It's also common for runners to lose all sense of pace in the late stages of the session due to their accumulated physical stress, resulting in total pacing guesswork in the final miles.
The ENGO Advantage
This is where ENGO Eyewear comes in.  By having the real-time display of your pace, heart rate and cumulative distance visible in your field-of-view, you're able to precisely govern your efforts throughout the entirety of this critical workout at a glance.
ENGO Eyewear eliminates the need to disrupt your biomechanics by turning your arm to look at your watch, and provides assurance that you're executing your workout according to plan. 
To become a faster, more efficient marathoner you must flawlessly execute your critical workouts.  Use ENGO Eyewear to shift your workout analysis from only post-activity review to in-activity awareness.  ENGO provides a new way to use data to gain a competitive advantage and help you achieve your goals.