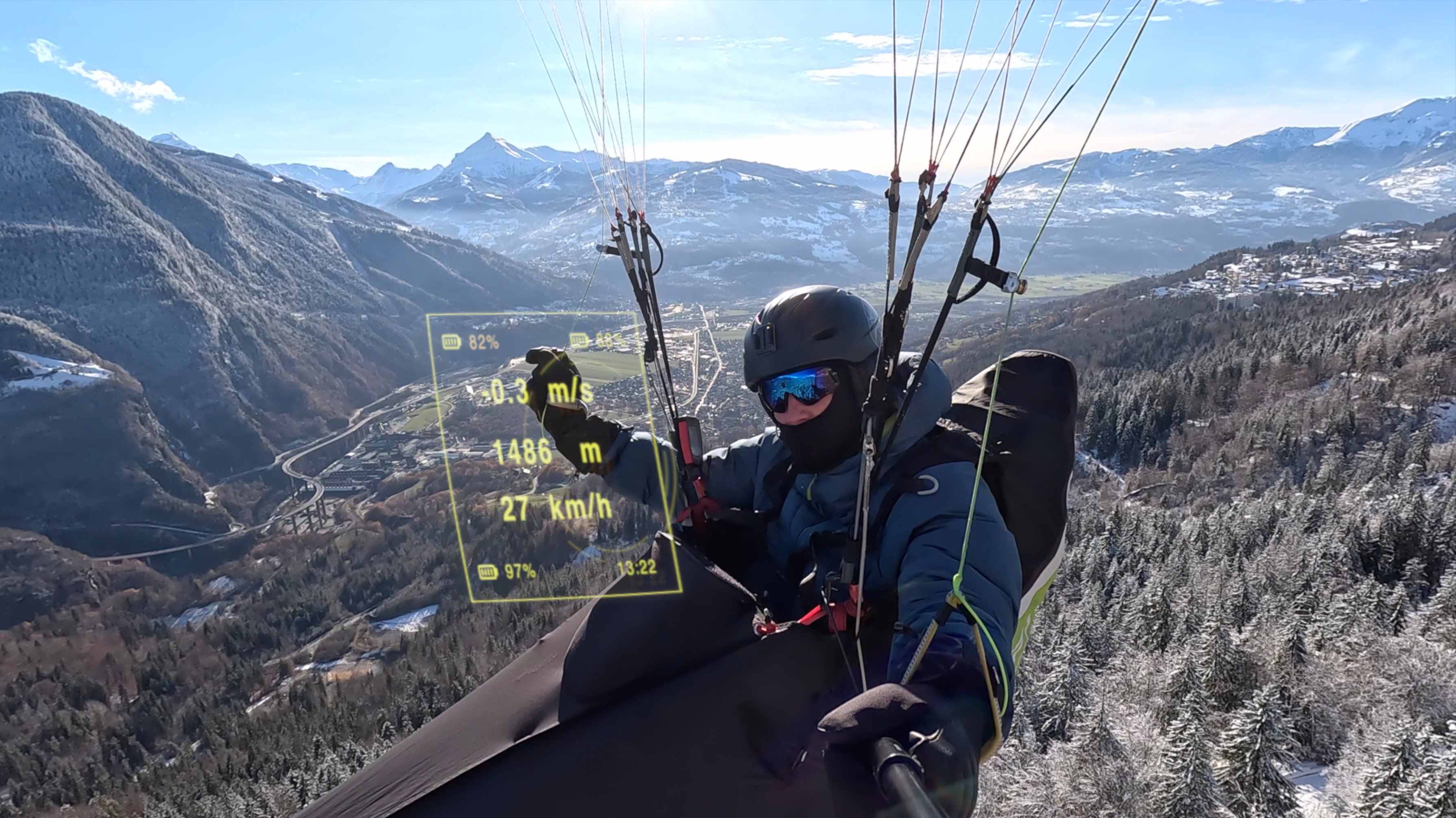 ENGO for Paragliding
By: Team ENGO
ENGO, powered by ActiveLook technology, can connect to any ActiveLook-compatible app or device. We've recently seen new ActiveLook partners in ultralight aviation create solutions for paragliding pilots - the XC Track app for android, and the Syride companion app for the Sys'Nav XL flight instrument, available for iOS and android.
The benefits of a Heads-Up Display (HUD) for pilots are well known. What might be less well known is that ENGO + ActiveLook bring hands-free, real-time data to paragliders and other ultralight pilots today.
Let's consider the benefits and advantages of ENGO for paragliding enthusiasts.
Safety: Of critical importance in any aerial sport, and a HUD can enhance it significantly. By providing real-time information about altitude, airspeed, vertical speed, and location, a pilot can maintain situational awareness, as well as awareness of critical flight parameters without taking their eyes away from their surroundings. This helps a pilot react quickly to changing conditions and potential hazards.
Navigation: HUDs can include navigation features that show waypoints, routes, and airspace boundaries, to help pilots stay on course and avoid restricted areas. This aids navigation in unfamiliar terrain and reduces the risk of straying into dangerous or no-fly zones.
Weather Monitoring: Paragliding is sensitive to weather conditions, and a HUD can display live weather data, such as wind direction and speed, barometric pressure, and thermal conditions. With this information, pilots can make better decisions about when and where to launch, as well as assess potential turbulence or changing weather patterns during flight.
Hands-Free Operation: ENGO can be controlled using gesture control - if a pilot needs to adjust or turn off the display, it's possible to wave a hand in front of the sensor without releasing risers. This operation allows the pilot to maintain control over brake lines and risers while accessing essential information on the HUD.
Overall, a Heads-Up Display can significantly enhance the paragliding experience by increasing safety, improving navigation efficiency, and augmenting situational awareness.
ENGO has been used by top pilots at Chamonix, France and other major paragliding destinations. We presently recommend ENGO 1 with photochromic lenses as the best solution for most paragliders.
Special note to pilots: Don't forget to use the retention strap, included with every ENGO...
Learn more about XC Track for android here: https://xctrack.org/
Learn more about Syride for iOS here: https://apps.apple.com/us/app/syride/id1584133070
Learn more about Syride for android here: https://play.google.com/store/apps/details?id=com.syride.systool&hl=en_US&gl=US