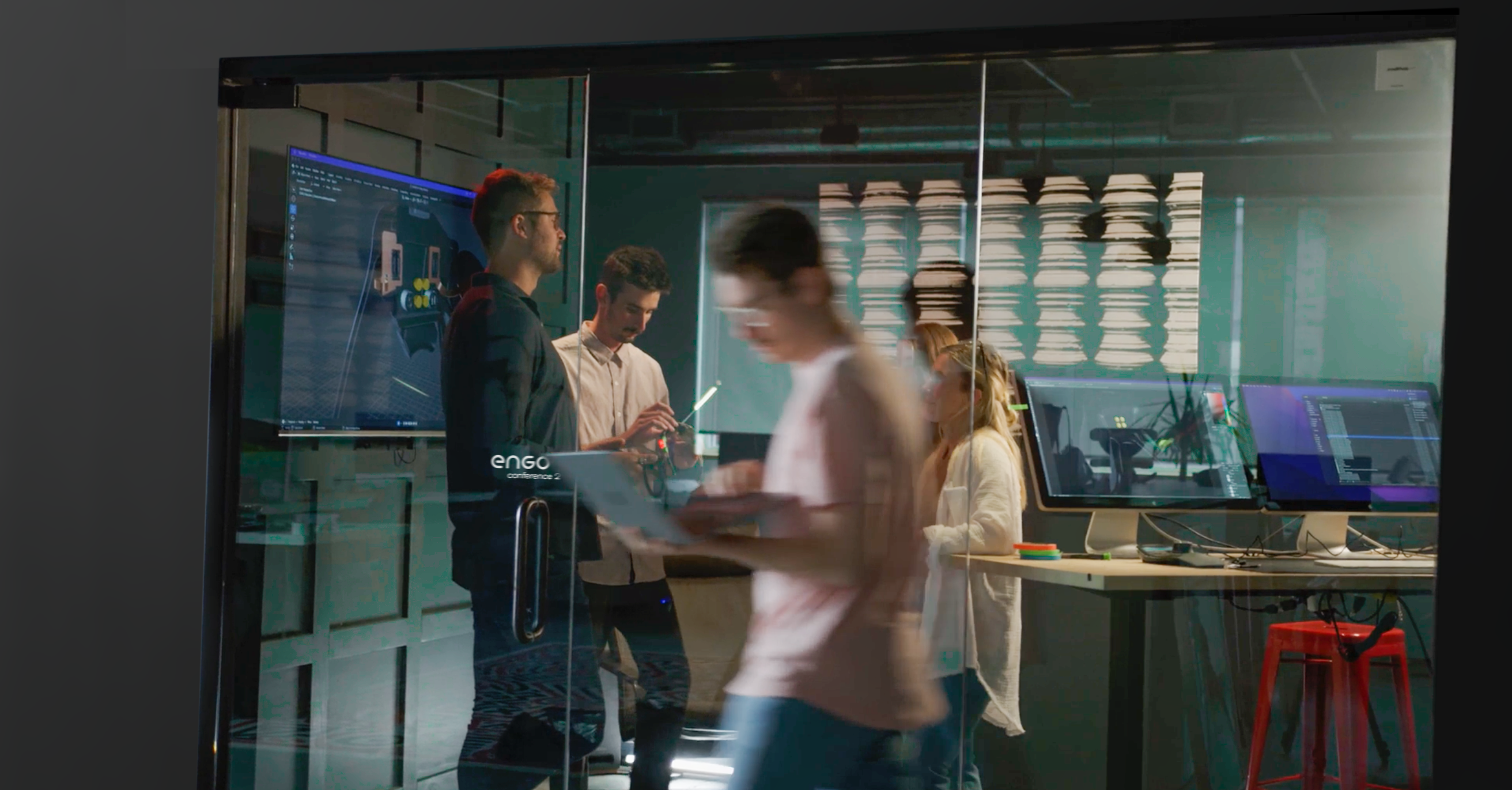 The Origin of ENGO
By: Team ENGO
ENGO Eyewear follows in the path of multiple innovators who have attempted to deliver connected eyewear for athletes, particularly for cyclists.
Athletes and engineers have long recognized that a Heads-Up Display (or "HUD") can be very useful for athletes who, like fighter pilots, require instant, hands-free access to visual information, and near constant situational awareness. 
Some early examples of HUDs for cyclists include the Recon Jet (2015), Solos Smartglasses (2016), Garmin's Varia Vision (2016), and the Everysight Raptor (2017). 
When considering requirements and attributes for ENGO in 2021, our team carefully considered the pros and cons of past designs. 
For example, we admired the self-contained / stand-alone aspect of the Everysight Raptor, but recognized that the Raptor design required a powerful processor and sensors, which in turn necessitated a larger, heavier battery, which ultimately dictated relatively high weight - reported to be @ 98g, more than twice the weight of "standard" sports eyewear. Heavy eyewear can be a real problem for extended comfort, and a non-starter for marathoners and distance runners in particular, who absolutely require sub-40g eyewear. 
We also questioned whether athletes truly want or need a stand-alone device in the first place. If you're carrying a phone during activities, as a majority of women and many men do, why not put the processor and battery that you're already carrying – in the smartphone – to good use?  While we're at it, why not connect directly to a smartwatch, or cycling computer – which already has highly refined sensors and data processing?
We explored if a stand-alone design is a real want or a need for a majority of athletes. Our primary research indicated that a majority of endurance athletes love their smartphone, and/or connected sports watch. Even competitive cyclists take pictures at a mid-ride coffee stop. Many athletes also have general safety and connectivity concerns – for their own safety, as well as maintaining contact with family or work, particularly during long distance runs and rides. Our research identified that only a small minority of athletes prefer to leave the phone at home. Carrying a phone is simply not a burden for cyclists who use jersey pockets to carry a wallet, a repair kit, a snack, and other essentials. And many runners increasingly use a device like an Apple Watch or other smartwatch with an eSIM option to make and receive calls and notifications while on the go, or to listen to music or guided workouts via audio. 
Would these athletes stop using a watch or carrying phone if they have connected eyewear? Would athletes accept a new device with an additional eSIM, and the associated service fee? Ultimately, we concluded that light weight was a much higher priority than stand-alone functionality. 
It turns out that this design path has many benefits – notably, designing eyewear to work with a smartwatch or smartphone also enables us to dramatically reduce cost in comparison to all previous products – particularly relative to integrated/stand-alone designs like the Raptor, which duplicate features and functions that are already found in the connected watches and smartphones that athletes already own - and love. 
Another design challenge involved the display. Integrating a display with eyewear requires relatively new technology that is not well understood or adopted outside of industrial or military use cases. 
ENGO's parent company, MICROOLED, is the largest manufacturer of near-eye micro displays outside of Asia. MICROOLED is a global leader in the development and manufacture of displays for scopes, night vision, viewfinders, and many other high performance and mission-critical applications. MICROOLED created ENGO Eyewear in part to showcase its leadership in high visibility / low power displays, as these attributes are often mutually exclusive. 
When considering display configuration, we noted that past designs that typically used an external display (all of the above products, except Everysight), and that these "outboard" displays suffered from similar problems:  A side-mounted display engages peripheral vision, which requires shifting attention away from the road ahead. This is in direct conflict with one of the primary benefits of a HUD – to maintain a high degree of situational awareness on what's directly ahead, and to eliminate the need to fully shift attention away from the primary activity. 
The need to shift focus between forward and peripheral vision can interfere with balance, and can cause nausea for some people. These side effects (no pun intended) were identified and reported during the Google Glass trials in 2013-14. We didn't want to repeat this well documented mistake. And wouldn't placing the display far to the side or above a natural sight line the be like placing your car's dashboard in the passenger side mirror or at the top of the windshield? From a performance and experience point of view, we concluded that an outboard display configuration is a non-starter. The mechanical aspect of an outboard design also creates an asymmetrical and unbalanced design that may be tolerable for cyclists, but is simply not functional for runners. Finally, we will withhold judgement re: appearance, other than to say: Outboard displays are very conspicuous...  
Starting with these observations, we aligned on a set of basic product requirements (Minimum Viable Product or "MVP" in marketing terms). ENGO would be:
Designed to perform for cyclists and runners, with potential applications for other athletes or outdoor sports use cases as a secondary objective.

 

Compatible with the devices that a majority of endurance athletes use and prefer, starting with Garmin (the largest brand of connected watches for sports), and then adding Apple Watch (the largest brand of smartwatches overall, with increasing focus on sports via the "Ultra" model), as well as iOS and Android smartphone support.
Lightweight. Our target was to deliver eyewear as light as typical sports eyewear, without any electronics. This would require a finished product at 40g or less. Studies have shown that 40g is the upper weight limit for extended wear for general use, and that athletes, particularly runners, often prefer if not require lighter eyewear.
Balanced. The optical and electronic architecture had to create a symmetrical design for comfort and for stability – even when running.
High brightness.

 

Some reviews of early products noted that displays could be difficult to read in some ambient / outdoor light conditions. Our display would need to perform well in daylight.

 

Long battery life. Recognizing that endurance athletes such as triathletes and marathoners are often lead users of new technology, and also that this group could directly benefit from marginal gains associated with real-time data – we determined that ENGO would need to significantly improve on the power performance of prior products

 

(typically 3-4 hours of continuous use) and deliver at least 10 hours or greater battery life, in order to ensure a safe margin for multiple days of training or for extended use in a marathon, distance cycling event, or triathlon setting.
Cost.

 

Target $400 USD or less, less than half the cost of some prior products, and approaching the cost of some high-performance sports eyewear without any electronics.

 

Suitable for a majority of athletes.

 

This meant that ENGO would accept that a small percentage of athletes might encounter limitations in fit, and that we would not attempt to incorporate interchangeable lenses or Rx correction in our first-generation products.
Where did we arrive?
At the time of writing in mid-2023, ENGO has delivered our second-generation product, ENGO 2. Our current product meets the criteria we identified in our MVP… 
Weight:

 

At 36g in the standard size, and 40g for the large size, ENGO 2 is the lightest connected eyewear to ever come to market. Period. ENGO 2 is comparable in weight to many popular brands and models of sports eyewear, and actually lighter than some of the oversized "shield" type designs currently used in the pro peloton (it's worth noting that professional riders are paid to use those products).
Compatibility: ENGO works exclusively with ActiveLook, the first app to enable eyewear to connect directly to the Apple Watch, and the first Apple Watch app of any type to display Stava Live Segments in real-time.

 

Similarly, ActiveLook for Garmin uses the familiar Garmin Connect IQ process to install a data field that connects to ENGO.

 

Both platforms enable ENGO to display dozens of advanced metrics, many of which have never been viewable in live outdoor activity before (e.g., "running dynamics" which shows vertical oscillation and stride length – so runners can optimize their stride and both see and feel changes in real-time). It's worth noting that ActiveLook integrates with Garmin and Apple directly because those platforms support 3rd party developers. There is also an ActiveLook integration with Suunto – developed and maintained by Suunto. We have not yet integrated with Wahoo, Hammerhead, Coros, Bryton, or other platforms. We welcome the chance to work with additional hardware partners, however we cannot complete the integration because the platforms mentioned here do not provide a platform for 3rd party developers – Such closed platforms require that the integration and development work is completed from their side. ActiveLook does

 

offer an open API, which anyone is welcome to use. We've seen independent app developers build functional prototypes in a matter of days or sometimes hours. In theory, any team with an app development capability could add ActiveLook support – and therefore ENGO compatibility – with relatively little effort. If you want to see ENGO compatibility with a particular brand of watch or cycling computer, please encourage them to provide ActiveLook integration!
Balanced. ENGO uses a projector/reflector configuration and positions the entire electronics and optics package on the nose bridge, for maximum balance and stability.

 

This configuration eliminates the downsides of outboard and/or asymmetrical display designs, and places the display in a near-center position – much like a car dashboard or a pilot's HUD - where it can be instantly and intuitively viewed without distraction or any of the unwelcome side-effects associated with designs that position the display anywhere in peripheral vision (above, below, or to the side).

 

Brightness. ENGO's proprietary monochrome display is designed for performance. ENGO's display is a high contrast yellow-green, visible against all but the brightest backgrounds, even in ambient daylight. The display can be set to automatically adjust brightness, or set at a preferred level based on individual preference.

 

Battery life. ENGO delivers up to 12 hours of continuous use with the gesture sensor on. With the gesture sensor off, ENGO will last up to 20 hours of continuous use with the display on. This is by far the best power performance for connected eyewear with a display, to date. It's worth noting that some other products have over-stated power performance by managing refresh rates or power cycles (periodically turning off the display). ENGO's spec is for continuous use – enough for a competitive athlete to complete a marathon, the bike and run segments of a triathlon, or all but the longest ultra-run or distance cycling events. For example, ENGO has more than enough power to complete a typical grand tour stage, or events like the Belgian Waffle Ride series, however we would recommend turning off the display for the night segment of Paris-Brest-Paris…
Cost. At $329.95, ENGO 2 is the lowest cost connected display eyewear on the market, and close to the price of many brands of sports eyewear that do not contain any electronics, i.e., similar price for a polycarbonate lens + frame, vs. lens + frame + micro-display + battery + wireless radio + processor and PCB
Fit. ENGO includes widely adjustable/bendable temples and an adjustable nosebridge. ENGO is designed to fit a majority of the adult human population, however, like many other eyewear designs, we acknowledge that individuals with a very wide or flat nose, and/or high cheekbones, may find that the fit of ENGO is not ideal. To help all individuals best assess fit in real-world conditions, ENGO provides an unconditional 30-day trial period – the product may be returned for a full refund, for any reason, within 30 days of purchase. This enables athletes to try ENGO in real-world conditions. At the time of writing, ENGO only sells on a direct-to-consumer basis. This helps to ensure that we can provide direct support, and receive direct feedback, for continuous improvement.

 
In summary, ENGO's innovative design delivers many solutions and improvements in connected eyewear for athletes. We believe that ENGO is the most usable, comfortable, practical, and functional design for connected eyewear for sports, to date.
As of 2023, we've met all of our design objectives and "MVP" requirements. ENGO 2 has been in production for almost one year, and we're starting to get positive feedback and accolades from real people using ENGO at major events around the world...  
ENGO has been used at Boston, New York, Chicago, London, Paris, Barcelona, Berlin, and many other marathons, to effectively manage pace and effort. ENGO users have set new "PRs" in and out of competition, and attributed their success in part to ENGO and ActiveLook. ENGO has also been used at Nice, Kona, and many other triathlons, and has appeared at BWR, Unbound, Leadville, and other endurance cycling events.  
Across these events, people who test and use ENGO consistently report an improved ability to train and to prepare, and also an improved ability to manage effort and stick to plan in competition.  
ENGO has also been tested and used in our "backyard" in France, at La Coupe Icare (paragliding), La Foulée Blanche (Nordic skiing), Roc D'Azur (MTB), and by individuals and teams in various stages of Olympic training and trials (track, cycling time trial, rowing, kite surfing, and sailing, to name a few). Like running and cycling, each of these fast-moving sports requires light weight, long battery life, and frictionless access to comparative performance data. While ENGO was not specifically designed for aviation, wintersports, or marine use, we're encouraged by early positive feedback from athletes in these activities.  We remind anyone who might "try" ENGO for these sports: Always use the included retention strap – like a majority of other eyewear products, ENGO does not float. And while ENGO is designed to be water and sweat resistant, our current design is not intended for prolonged submergence. ENGO has a very liberal warranty, but it does not cover loss… 
One surprising thing that many people who use ENGO have in common: With instant, intuitive access to performance metrics, athletes report a sense of greater control. Athletes often find that adding ENGO as a peripheral to their smartwatch can reduce uncertainty and even anxiety re: "how am I doing?" in training and in competition. Please don't misinterpret this statement: Athletes still love the smartwatch – it provides the highly developed and refined sensor data that athletes rely on.  With ENGO, smartwatch data becomes dramatically easier to see, and therefore easier to use.
Looking ahead… If you're an athlete seeking marginal gains to achieve your goals in 2024 and beyond, we'd like to hear from you. And we always welcome the chance to get feedback from existing ENGO users with real-world insight.
Please get in touch here with any questions! If you're an athlete looking to make marginal gains, and want ENGO to help you out consider applying for our sponsorship program!
See you at the finish line.