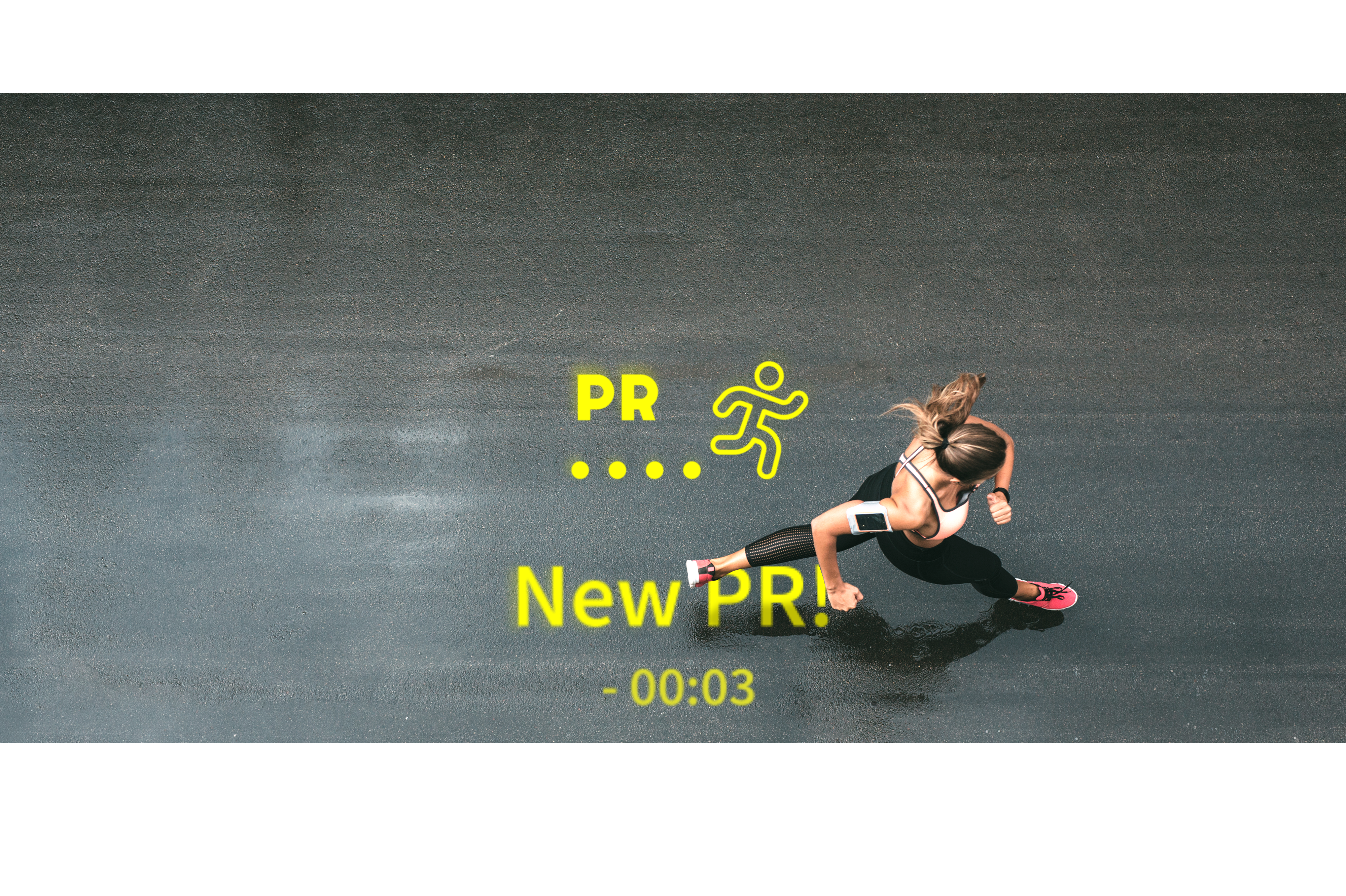 ENGO + Apple Watch + Strava
Before we get into the details, there are a some noteworthy "firsts" for ENGO + Apple Watch + Strava:
ENGO is the first "AR" or augmented reality product of any type to connect directly to Apple Watch. 
And, ActiveLook is the first app for Apple Watch that shows Strava Live Segments during an activity. 
This means that for the first time, it's possible for athletes to easily see their progress vs. past efforts (Personal Record or "PR") during a live activity. 
The ability to see progress in real-time while running at pace can be a game changer for competitive runners, as well as for recreational runners seeking improvement. 
Runners and also cyclists can experience the excitement, motivation, and "gamification" of seeing their performance vs. their Personal Record ("PR") or vs. the King of the Mountain ("KOM") or Queen of the Mountain ("QOM") in real-time. 
Until now, many athletes have had a limited sense of how they've performed in a given segment until the activity is complete, and they review their result in the Strava app. Now, thanks to ENGO + Apple Watch + Strava, runners can see their progress and performance without breaking stride, and without taking their eyes off the road ahead.  This experience may be familiar to anyone who has used an indoor digital fitness app that integrates with Strava, such as Peloton or Zwift. The big difference is that it's now possible to enjoy some of the best aspects of the indoor digital fitness experience without a large indoor screen. ENGO brings easily viewable Live Segments to real roads and trails and courses in the real world. 
Strava Live Segments requires a Strava Premium account. ENGO users can sign up for a free 60-day trial of Strava Premium. 
For runners who repeatedly train or compete on a given segment, the ability to see real-time performance during the activity, vs. post-activity review, can provide meaningful insights about how and when to attack, or to better manage effort, in order to unlock new PRs – and more. 
Join the ActiveLook Club on Strava 
The ActiveLook experience also shows Strava's "carrot" and "wolf" for those looking beyond their PR, to competition with friends and to the rest of the leaderboard.  
Details about how to connect ActiveLook to Strava and to use Live Segments can be found here. 
In addition to Strava Live Segments, ActiveLook supports a wide range of Apple Watch performance metrics, which include Running Dynamics such as Vertical Oscillation – which are viewable during live activity for the first time with ENGO.  It's now possible to see and feel changes in body mechanics in real-time, so that athletes can work on their stride in a more efficient and effective way.  
Details about how to install and use ActiveLook for Apple Watch can be found here.
ActiveLook for Apple Watch also supports new connectivity options now available in WatchOS 10 – which can be particularly useful for cyclists who wish to use a compatible speed or cadence sensor, or a power meter.  Data from Apple Watch compatible sensors are now supported by ActiveLook. 
A note about battery life…  Apple Watch battery life varies by model and activity. The Apple Watch Ultra has the longest battery life, is recommended for endurance athletes, and will provide up to 8+ hours of continuous activity tracking with a live ActiveLook session and a live connection to ENGO.  For most athletes, this is more than enough for multiple days of training, or to complete a marathon, or to complete the bike/run segments of a triathlon.
The ActiveLook app for Apple Watch supports Apple Watch Series 4 or later. Details about how to install and use ActiveLook for Apple Watch can be found here.
If you have any questions, please get in touch with our support team.  We aim to respond to all inquiries in 24 hours or less, unless it's the weekend – in which case, we are probably outside running or cycling, too...  And we'll respond first thing on Monday